History of the Youth Media Awards: Part 5, the Stonewall Awards
in
The Youth Media Awards reflect the broad spectrum of children's and young adult literature.
And, in the case of the Stonewall Book Awards - Mike Morgan & Larry Romans Children's and Young Adult Literature Award, as Roberta Stevens, then president of the American Library Association, put it in 2010, when the award was announced, "children's books regarding the GLBT experience are critical tools in teaching tolerance, acceptance, and the importance of diversity.
"Our nation is one of diverse cultures and lifestyles and it is important for parents, educators and librarians to have access to quality children's books that represent a spectrum of cultures."
Since Isabel Miller's "Patience and Sarah" received the first award in 1971, the Stonewall Book Awards have honored the best gay, lesbian, bisexual and transgender literature and the authors who have brought GLBT experiences to light. In their 40-year history, the Stonewall Book Awards have grown to include fiction, nonfiction and youth categories and have gained national attention.
The award takes its name from the Stonewall Riots, often cited as the first time members of the LGBT community stood up to a government-sponsored system that persecuted sexual minorities. The event became the catalyst that started the Gay Rights Movement.
In 2010, the Stonewall Children's and Young Adult Literature Award was added to the pantheon of what are now 18 Youth Media Awards
"The addition of our Children's and Young Adult Literature Award has increased the visibility of these books for young people, parents, librarians and teachers as they look for relevant, high-quality materials to read and share. It literally changes lives," said Lewis Day, chair of the Stonewall Book Awards Committee.
Almost Perfect by Brian Katcher was the 2011 recipient. In the following video, Lisa Johnston, Stonewall Book Awards chair, talks about the book and the award.
2012 Stonewall Book Award - Mike Morgan & Larry Romans Children's & Young Adult Literature Award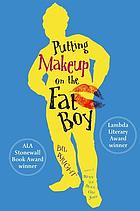 Winner:
Putting Makeup on the Fat Boywritten by Bil Wright
Honor Books:
a + e 4ever drawn and written by Ilike Merey
Money Boy written by Paul Yee
Pink written by Lili Wilkinson
with or without you by Brian Farrey

Additional educational resources can be found on the Equality Forum's LGBT History Month website. Resources include videos and biographical information of GLBT icons from all walks of life, including athletes, entertainers and political activists.
For more ideas about how you can use the resources at your library to teach and talk to your children about diversity and multi-cultural population, check the Connect with your kids @ your library family activity guide.


Article illustration from book cover: Stonewall, by Martin Duberman, 1993 (From a '70s Gay Liberation Front Poster).
By Patrick Lee (author), Raul Esparza (reader)
Likely Stories Blog
Dashiell Hammett and Sam Spade