Picture Book Month @ your library
Submitted by Megan McFarlane on Wed, 10/31/2012 - 14:43
Illustration:
We all have fond memories of reading picture books as children, either with parents curled up on the couch or before bed, by teachers in elementary school, or during library story times. Share the love of picture books with your children this November: Picture Book Month!
Before you hit the library, check out what librarians across the country say are their favorite picture books. Below are more than 30 recommendations, so you can check out a new book for every day of the month.
Alligator Baby
by Robert Munsch
Kristen's mother is having a baby - but she has it at the zoo! When her parents bring home her new baby brother, Kristen has to tell them that they've got the wrong baby! Will they ever get the right one? —Kristi Moser, Mobridge-Pollock School District
Animalia
by Graeme Base
I love the incredible artwork showing animals doing funny and human things, the repetition of the alphabet words and how they feel on the tongue. I love the tiny hidden pictures in the background that the author challenges the reader to find. —Lindsay Roseberry, Williamson County Public Library
Apples to Oregon
by Deborah Hopkinson
The "slightly true" story of a pioneer family that transported a wagonload of fruit trees to Oregon in 1847. Told with a flair for exaggeration and more than a dash of humor, this book takes readers on a sometimes suspenseful, but always entertaining, journey across our great country. —Jacquie Sewell, Bennett Woods Elementary School

Balloons over Broadway: The true story of the puppeteer of Macy's Parade
by Melissa Sweet
Do you know the history behind the Macy's Thanksgiving Day Parade? Balloons over Broadway tells the story of how it began. This beautifully illustrated book takes you behind the scenes and brings to life this wonderful tradition. —Sue Trovarelli, Amity High School
Children Make Terrible Pets
by Peter Brown
Lucille Beatrice Bear is sure that the boy she finds in the forest will be the best pet ever. Well, things go up and down until he disappears and Lucy makes a very difficult choice. —Joan Upell, South Dakota State Library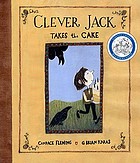 Clever Jack Takes the Cake
by Candace Fleming
A fairytale, a boy, an adventure... This modern fairytale shows us how one boy goes the extra mile and discovers what the best gift in the world can be! —Elizabeth Ford, Cresecent School
Dog's Colorful Day,
by Emma Dodd
Its fun pictures let you learn about colors, numbers and the many, many misadventures that "Dog" gets himself into during a long walk through the neighborhood. —Kathy Husser, Ironwood Library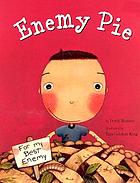 Enemy Pie
by Derek Munson
When a new kid moves into the neighborhood, he becomes the main character's only enemy, until a wise dad convinces his son that the best way to rid yourself of an enemy is to spend a day with him - and serve him enemy pie! —Lisa Haycraft, Helmwood Heights Elementary
Green
by Laura Seeger
Did you know that the color green could be wacky, slow or even forever? Laura Seeger makes you love the color green so much that you really miss it when she shows a picture without green. —Erin Gray, Springfield-Greene County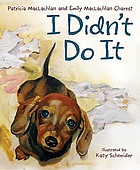 I Didn't Do It
by Patricia MacLachlan, Emily MacLachlan Charest and illustrated by Katy Schneider
This story is told in short poems from the dog's point of view. Sometimes poignant, mostly funny, find out what a dog thinks about rain, rules and being left alone. Next time your dog looks at you with those big eyes, you might just know what he is thinking! —Celesta Woodard, Carolina Beach Elementary School
I Like Myself!
by Karen Beaumont ; illustrated by David Catrow
In today's society, where so much value can be placed on outward appearances, I Like Myself! is a refreshing look at the sheer joy one child has in just being herself! Laurie Easley, Juniper Branch of the Phoenix Public Library
Imagine a Day
by Sarah L. Thomson
The Imagine series allows you to explore freely everyday pictures that convey "aha!" moments. The guide words will help a child look for the extraordinary surprise that greets them in each picture page. Parents and children alike will enjoy the beautiful.. thought provoking drawings of Rob Gonsalves. —LisaAnn Lawrence Majors, Hendersonville Public Library of Sumner County
Into the Deep
by David Sheldon
The true story of William Beebe, a naturalist who traveled the world discovering and studying new animal species. His first attempt at "helmet diving" hooked him. He fell in love with the deep sea and its amazing creatures, eventually inventing the bathysphere so he could take his research even deeper. —Jacquie Sewell, Bennett Woods Elementary School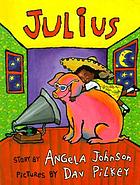 Julius
by Angela Johnson
Maya's granddaddy brings home a huge, pink Alaskan pig named Julius. Whether they are trying on clothes, eating peanut butter or listening to jazz music, Maya thinks nobody could possibly be a better friend. —Svetha Hetzler, Middleton Public Library
Micawber
by John Lithgow
What makes you happy? So happy that you can barely stand it? Well for Micawber the Squirrel, that's painting. This squirrel gets his hands (or paws, really) on some paints and creates some wonderful stuff. Read all about his adventure in this marvelous book. —Heather Moorefield-Lang, Virginia Tech

Miss Rumphias
by Barbara Cooney
I love how she models how to make the world a more beautiful place by planting lupine seeds wherever she goes. She is also a strong model for young women. —Gail Johnson, Baraboo Public Library
Monster Mama
by Liz Rosenberg
We all know that moms can be "monsters" at times, but we know they will have our backs all the time! —Yvonne Huennekens, Beadle Elementary

Orange Pear Apple Bear
by Emily Gravett
Four words. Endless possibilities. —Alex Byrne, Pierce County Library System
Pete the Cat and His Four Groovy Buttons
by Eric Litwin
What would you do if you lost a button on your shirt? What happens if you lose all of your buttons? Find out how Pete handles it in his own groovy way, as he teaches numbers and attitude. —Julie Armstrong, Idaho Commission for Libraries

Piggie Pie
by Margie Palatini
The wonderful combination of word play and humorous illustrations makes Piggie Pie a shelf-keeper for years. From the recipe for Piggie Pie to "Surrender Porkers!" and the poor bedraggled wolf who has advice about messing with piggies, this book will beg for telling and showing and retelling and showing again! —Jill Perfect, Crow Creek Tribal Schools
Scooter in the Outside
by Anne Bowen
Have you ever wondered what's going through your dog's mind when you take him for a walk? What would happen if he got out without you? If you ever wanted to speak dog, this is the book for you! It's also a great learning book for small kids about following rules and the importance of having boundaries. —Dawn Wright, Summit School Librarian

Sophie's Trophy
by Susan Middleton Elya, illustrated by Viviana Garofoli
Sophie is a sad toad. Her brother is good looking, great at sports and just about everything else. When Sophy saves the day at the fair, she learns that everyone has a great talent, including her! Wonderful verse peppered with Spanish vocabulary. A very fun read. —Terry Ann Lawler, Burton Barr Library
Stone Girl, Bone Girl
by Laurence Anholt
This is the story of Mary Anning. It doesn't get more inspiring than this: in 1811, twelve-year-old Mary Anning discovers the fossil of a great ichthyosaur before anyone even knew what an ichthyosaur was! Anholt does a great job of introducing us to Anning and her mentors, the Philpot sisters, weaving together her family's struggles to survive in Georgian England and Mary's insatiable curiosity for "curiosities". —Jacquie Sewell, Bennett Woods Elementary School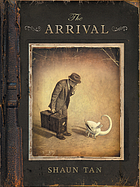 The Arrival
by Shaun Tan
Tells the story of a man who immigrates to a new country in order to find a job and send money back to his wife and child. What is so unique about this book is that the whole story is told through pictures only - no words. The pictures are so vivid and detailed that the reader is fully able to understand the reason why the man left his homeland, what challenges he faces in a new country and just how many other people share a similar story to his. —Elizabeth Kozlowski, White House Inn Library
The Boss Baby
by Marla Frazee
Imagine Dilbert as a baby, and you will have a notion of this hilarious story about the delight of a baby's first words and the arduous journey the parents embark upon until that moment. —Vivian Milius, Madison Library District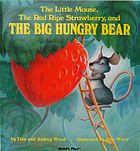 The Little Mouse, The Red Ripe Strawberry, and The Big Hungry Bear
by Don and Audrey Wood
Can the little mouse keep the big hungry bear from eating his red ripe strawberry? You'll just have to read and find out! Expressive colorful pictures and humorous antics make this story a favorite for children of all ages. —Cyndi Hickman, Public Library of Youngstown and Mahoning County
The Quiltmaker's Gift
by Jeff Brumbeau
A beautifully illustrated story about the joy of giving. In a battle of wills, who will be the victor: the powerful but greedy king or the gray-haired, generous quilter? The outcome seems obvious when the king chains the quilter in a cave with a ravenous bear, but through the magic of story, generosity prevails. A delightful tale, it's my go-to book to kick off the holiday season, but it's the perfect choice for any time of year. —Jacquie Sewell, Bennett Woods Elementary School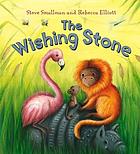 The Wishing Stone
by Steve Smallman and Rebecca Elliott
Armadillo would like to have friends, but he is very shy. A great book to talk to students about what it feels like to be left out and lonely and how to make friends. Nice colorful pictures. —Marilyn Schweitzer, Timber Lake School
There Are Cats in this Book
by Viviane Schwarz
Andre, Moonpie and Tiny come alive in a few very short sentences that will delight children and adults. —Mary Zenker, Sauk City Library Wombat Walkabout, by Carol Diggory Shields
A counting poem follows six brave little wombats on walkabout in the Australian outback. But the wilderness is bound to bring more excitement than an innocent counting game. Soon enough, the curious wombats learn to beware the hungry dingo! Aussie native Sophie Blackall's delicious illustrations set adorable wombats in a lush world of golden wattles, billabongs, kookaburras and gum nuts. With marvelous wordplay and irresistible read-aloud phrases, this ingenious text is sure to become a well-worn favorite. —John Bradley, Spring Greene County Library District
For ideas on how you can spend quality time with your children and teens, check out the Reading Together section of the Connect with your kids @ your library Family Activity Guide.
Special thanks to the members of the
Association for Library Service to Children
(ALSC) and of the
American Association of School Librarians
(AASL) for contributing to this blog post.